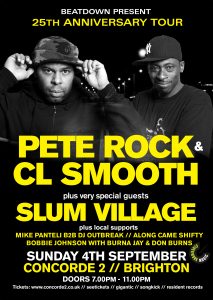 04
Sep
2016
Pete Rock & CL Smooth + Slum Village 'Live'
Details
Time
: 7:00pm - 11pm
Venue
: The Concorde 2 - Brighton
Address
: Madeira Shelter Hall, Madeira Dr, Brighton, East Sussex
Zip
: BN2 1EN
Phone
: 01273 673311
Contact Website
:
http://www.concorde2.co.uk
Mike shall be going back to back on the decks with DJ Outbreak, supporting these Hip Hop Legends………
Soul and Jazz driven beats with smooth, philosophical lyics, that is the signature sound of 90's Hip-Hop and the signature sound of one of the most influential and critically acclaimed acts of the era: Pete Rock & CL Smooth.
The perfect combination of producer and MC are on tour in celebration of their 25 years since the release of their debut EP 'All Souled Out'.
Taking the baton from the likes of Marley Marl, who gave him some of his earliest radio exposure, Pete Rock's complex sound used the Funk sampled by the previous generation of Hip-Hop pioneers and added a layer of Jazz that is his defining sound.
While work with the cream of Hip-Hop including Wu-Tang Clan, Notorious B.I.G., Nas and Public Enemy has set him apart it is his work with his long time partner in rhyme CL Smooth on their incredible two full length albums 'Mecca & The Soul Brother' and 'The Main Ingredient' that cemented his place as one of the greatest producers of all time and theirs as one of the greatest duo in Hip-Hop history.
Do not miss this rare opportunity to see and hear the latest chapter in their history unfold at Concorde 2.
Plus VERY SPECIAL GUESTS SLUM VILLAGE
Slum Village is a hip-hop group from Detroit. It was formed by three members: rappers Baatin (deceased, 31 July 2009) and T3, plus rapper and producer J Dilla (deceased, 10 February 2006). J Dilla left in 2002 and Elzhi joined in his absence, after which Baatin also left due to health complications. At present, the evolution of Slum Village continues with a reinvigorated energy, with founding member T3 holding down the legacy , and Grammy nominated producer Young RJ at his side