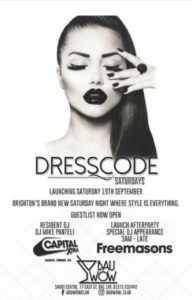 30
Sep
2017
Dresscode
••SATURDAY'S RESIDENT DJ MIKE PANTELI••
This is not what you think it is.
This is more than you will hope it will be.
This is your future Saturday Nights.
••This is Dresscode••
Brighton has been searching for something new and exciting for some time now and finally that time has come!
With 20 years of experience running the best venues in the city, the owners of Bau Wow have refined their unparalleded knowledge into a venue and a Saturday night that brings back everything you have been missing.
Welcome to Dresscode…
+ Premium drinks at affordable prices.
+ Music you know and love from Chart, Commercial House and R'n'B.
+ Free entry before 11.30pm (£5 & up after)
••Music
Capital Xtra's weekly resident and Brighton's best and most loved DJ MIKE PANTELI..
Mike can be heard throughout the UK every Friday night on Capital Xtra (9pm – 1am), as he goes in the mix uniquely blending fresh, future and classic beats.